Note: Muir Analytics warned of this exact scenario – but not the exact hotel – in October this year at the excellent Hospitality Law Conference series put on by distinguished hospitality lawyer Stephen Barth.
The lead-up to the attack
Accurate reporting on this sensational and dangerous attack has been sporadic, with crucial details omitted or delayed. But Muir Analytics managed to piece together the below scenario over five days. We will update it as new details emerge.
Initial reporting from Riviera Maya News says that as many as five armed men arrived at Petempich Beach along the Mexican Riviera Maya, Quintana Roo state, at 11:30 am on Thursday, 4 November, and announced they were taking over drug dealing in that area – meaning the retail drug trade directly on the beaches where most clients are hotel and resort guests. After making this announcement, three of these men vacated the area, and two dealers stayed behind.
NDTV reports the Quintana Roo Attorney General's (AG) office said these five armed men were part a splinter group of the Sinaloa Cartel.
Petempich Beach is about five miles north of Puerto Morelos.
Some time close to this incident, says the Associated Press (AP), Oscar Montes de Oca, Quintana Roo's AG, tweeted that rival cartels had a clash or a face-off of some kind "on the beach in Bahía Petempich," but no other details were forthcoming.
Then came clearer reporting from the AP saying that a group of armed masked men came hunting for the new drug dealers. This group was most likely an enforcement unit of the Sinaloa Cartel.
Eyewitness Keith Jackson, a tourist in the Petempich Beach area, told the AP he saw these armed masked men question a lifeguard and a hotel security staffer, exact property unknown, about the interlopers. He said, "They climbed up into the lifeguards' tower, and they threatened, and they were asking for information, and they threatened him with a gun, asking him, you know, if he'd seen the two new guys walking up and down the beach."
The attack
Then, just after 2:00 pm, reports Riviera Maya News and the AP, a masked, 15-man assassination team, likely from the Sinaloa Cartel, arrived by vehicle, (not by speedboat as previously reported), at the 5 star Hyatt Ziva Riviera Cancun. Brandishing pistols and assault rifles, they trotted from the Hyatt's parking lot to the beach in front of the Hyatt and the 5 star Azul Beach Resort Riviera Cancun. These resorts are two miles south of Petempich Beach.
The hit team's apparent mission was to neutralize the two rival drug dealers. As the team spotted the two dealers, gunfire broke out. 24 News Recorder posted a video of the shooting linked to Twitter. The video, which is only sporadically available, appears to have come from someone inside the Hyatt looking down on the attack.
An observed analysis of the video shows the hit team approaching the Hyatt beachfront from the north. When the two dealers see the armed men trotting toward them, they flee, and a nearby hotel staffer is also seen running from the attack. A mini-bulldozer operator clearing seaweed from the beach stops operating his equipment and either fled or hunkered down in his machine.
The assailants then shoot one of the dealers on the beach, and two or three men also physically apprehend him. He died there on the waterfront. The other dealer, while being chased by four gunmen who were shooting at him, jumps from the beach seawall onto the Hyatt's lawn. In the process, he appears to drop his pistol.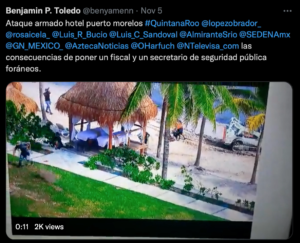 One of the hit team appears to be armed with a pistol, and three seem to be armed with AR-15 type assault rifles. The footage is slightly grainy and does not allow for a precise identification of their weapons.
As the second dealer runs toward the hotel building, a geyser of dirt spews up behind him as his pursuers continue shooting. Bullets hit this second dealer somewhere in this melee, and he died either inside the hotel or somewhere on the property. The attackers' stray bullets certainly hit the Hyatt's lawn, and they might have hit the building as well.
All this happened as people were on the beach playing volleyball, tweeted Hyatt guest Mike Sington. The attack sent these and other guests fleeing for their lives in a panic.
Hyatt guest Troy Petenbrink told the press, "We had literally just arrived and were walking to the beach when a rain of gunfire happened, and people all started running from the beach and pool area to take cover," reports The Sun.
Another guest told the press, "I was by the pool when multiple successive gunshots occurred. It went on for a little while, and everyone dove for cover. We manned the entrances to the basement and were given metal sticks, even a pedestal bathroom sink, to defend ourselves."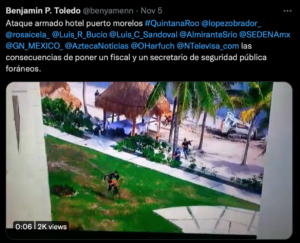 As the attack was unfolding, Hyatt told the AP that their staff ordered guests to take cover and that they "immediately engaged local authorities who are on the scene investigating the situation."
Several Hyatt guests posted photos and videos of them sheltering in place, unsure of the exact nature of the attack. Mike Sington tweeted: "All guests and employees told to duck, and we're all taken to hiding places at Hyatt Ziva Riviera Cancun Resort. Active shooter? Terrorist or kidnapping threat? They're not telling us anything."
The video he posted shows hotel staff ushering him to what appears to be a back-of-house staff type area where many other guests were hiding.
Shortly thereafter, he tweeted: "Active shooter on property at Hyatt Ziva Riviera Cancun Resort. All guests and employees are hiding. Paramedics have arrived."
The assassination team then egressed from the Hyatt by boat that was either prepositioned and waiting for them, or they absconded with one that happened to be ready to be started up and driven.
Aftermath of the attack
The Sun reports that Mexican police said four Americans were injured in the attack, although there is no word yet on how they were injured. One was hospitalized and released, possibly hit by a ricochet, and the other three sustained light injuries, maybe from slips and falls as they fled the gunfire.
As the situation subsided, Sington tweeted: "All guests and employees taken out of hiding now and brought to lobby. Active shooter at Hyatt Ziva Riviera Cancun Resort. Still no update from hotel. People are hugging each other and crying."
The Hyatt sent text messages to its guests, telling them they'd be taken in small groups to their rooms by staffers. As they did this, staffers told guests to keep quiet. Once in their rooms, according to Sington, staffers told guests to shelter in place and to barricade their doors. Sington spent the rest of the evening in shock, trying to decompress, as did scores of other guests.
Quintana Roo Governor Carlos Joaquin said the Hyatt attack was "a serious blow to the development and security of the state…putting the image of the state at grave risk," reports the AP.
Background of the attack
Muir Analytics has recorded scores of violent incidents at Mexican hotels in recent years, and many of these have happened at or near tourist resorts, or on beaches directly in front of tourist resorts. Most of these were related to the North American drug trade.
Additionally, Muir Analytics has noted a multitude of drug-related shootings in Mexican tourist areas from Cancun to Tulum in recent months. Attorney General de Oca blamed this violence, and certainly the Hyatt shooting, on cartels and gangs that are battling for control of the retail drug market on the Riviera Maya. De Oca's office named the Jalisco Cartel and a gang (unnamed) allied with the Gulf Cartel as being part of the violence. Obviously, the Sinaloa Cartel is as well. AG de Oca further explained that two drug organizations (he did not name them) are fighting for control over the local drug trade in Puerto Morelos (halfway between Cancun and Playa del Carmen), and ten drug organizations are fighting for control of Tulum (they were not named, either).
CBS News says one of the gangs in Tulum is Los Pelones, meaning "the bald ones" or "shaved heads," which reflects their military-style haircuts. Los Pelones was responsible for an extortion-driven restaurant shooting in Tulum in October that killed two foreign citizens, an Indian and a German, and wounded three other people.
AG de Oca also said over 20 million tourists visit the Riviera Maya every year, and they are a significant part of the retail drug trade there. He told the press, "We are facing an issue of supply and demand for drugs."
Antonio Chaves, the leader of Maya Riviera Hotel Association, also spoke to the AP, saying the drug gangs did not care about scaring hotel and resort guests: "They are criminal groups that don't care about the place, the time, the surroundings, and that affects the tourism zone."
Reinforcing this point, after the Los Pelones shooting in Tulum, the gang left behind a note, reports CBS, saying, "[this] was a warning, so you can see we mean business. You either get in line, or we are going to continue shutting places down like the Mini Quinta. We are in control here."
Below are several recent attacks that happened in the middle of tourist areas in Cancun, Playa del Carmen, and Tulum that demonstrate the threat:
These local drug conflicts in Riviera Maya are connected to, and reflective of, a broader, nationwide drug conflict between Los Zetas, and the Sinaloa, Gulf, and Jalisco New Generation Cartels. Additionally, hundreds of smaller drug gangs across Mexico are popping up to seize market share as the larger cartels fracture and suffer losses from fighting each other and from the government's recent big cartel crackdown, says Business Insider.
Takeaways
First, the tactics the assassination team applied to kill the two rival drug dealers at the Hyatt Ziva were sloppy but effective. With their rifles, this team could have eliminated their two targets without firing at the hotel, which endangered all resort guests and staff. The gunmen were exceedingly audacious, and their parent organization should be considered a significant threat.
Second, because the attack is likely to chase away hotel and resort guests along the Riviera Maya – the beach dealers' main clients – at least in the short term, the attack was, to a degree, strategically shortsighted. But, as Antonio Chaves said, many of these drug cartels/gangs do not care if their violence impacts tourists and hotels. Maintaining turf and a fearsome reputation, which helps them gain and hold market share over their rivals, is their key strategic concern.
Third, since the attack killed two beach dealers only, it is unlikely to halt the drug rivalry in the Petempich Beach area or elsewhere. Usually, strategic shifts between two cartels or even local drug gangs require the elimination of a significant number of enforcers and/or leaders higher up in the chain of command.
Fourth, resort security along the Petempich Beach area could be and should be improved. For example, a linked communications channel between multiple properties could have red-flagged the three indicators of violence to come:
The five armed drug dealers announcing their takeover of the Petempich Beach drug trade.
The Quintana Roo AG's tweet about the Petempich Beach cartel face off.
The armed gang accosting the lifeguard and security staffer while hunting for the rival dealers.
These activities began at 11:30 am and culminated at about 2:00 pm, meaning hotels/resorts in the area had an approximate two-hour window to process said indicators as viable threats and then have guests shelter inside hotels before the shootout happened. Having said this, from the videos posted and eyewitness accounts, the Hyatt appears to have effectively sheltered guests in makeshift safe rooms throughout the property as the attack unfolded. These measures, however, would not have stopped any belligerent intent on attacking hotel guests.
Looking forward, none of the issues broached here indicate that the Riviera Maya will be safe for hotel/resort guests and staff in the near term. All problems presented here suggest the opposite:
The national-level, small gang and cartel friction.
The Riviera Maya-level, small gang and cartel friction.
The audacity of the violent tactics they use in tourist areas.
The increased tempo of gang/cartel attacks in fall 2021.
The number of attacks that have impacted tourists.
All these indicate more violence to come.
This last point cannot be overemphasized. Four of the six acts of violence mentioned above impacted tourists and hotel guests either directly and/or sent them running for their lives. The Hyatt attack makes that five of seven cases where tourists were endangered. And five of these seven attacks happened in the last three months.
Only a significant and highly visual deployment of Mexican security forces (police, military, and/or National Guard) along the Riviera Maya will increase safety in the near term for this otherwise incredible, world-class tourist destination. Even then, the root causes of the violence would still need to be addressed, such as the retail drug trade along the Riviera Maya's beaches.
Hotels and resorts along the entire Riviera Maya need to professionally upgrade security, such as the communications warning network mentioned above. Having modern, protective intelligence, like that contained in the SecureHotel Threat Portal, would be the first step in recalibrating security practices, training staff, and adding the necessary technology. Such intelligence caused Muir Analytics to predict the Hyatt attack scenario correctly. And Muir is predicting that more violence will affect tourist locales along the Riviera Maya unless security is increased, starting with the government forces previously mentioned.
Hotels and resorts along the entire Riviera Maya also need to review their insurance policies that cover violence-related risks to ascertain what they are insured for, and then make proper calibrations. And their in-house counsels need to prepare for possible security and/or duty of care type negligence lawsuits. As with security, intelligence from the SecureHotel Threat Portal would make insurance policies and lawsuit preparations much more effective.
Muir Analytics runs the world's largest, most sophisticated hotel violence database – the SecureHotel Threat Portal – with over 1,900 hotel attacks (and growing). We can provide the hospitality sector with intelligence that facilitates full-spectrum risk reduction, which helps hotels protect guests, staff, buildings, brands, and revenues. Contact us for a consultation:  1-833-DATA-444.
Sources and further reading:
"2 suspects arrested in Mexico beach shooting that left 2 dead," NDTV, 7 November 2021.
"Terror in paradise: they release a new video of the shooting at the Hyatt Ziva Riviera Cancun hotel in Mexico," 24 News Recorder, 6 November 2021.
"Official: A dozen drug gangs fighting for Mexico's Caribbean," Associated Press, 5 November 2021.
"DEADLY BEACH SCENE: Was there a shooting at Cancun Mexico Beach?," The Sun, 5 November 2021.
"2 dead in dramatic shootout near upscale Mexican resorts," Associated Press, 5 November 2021.
"FGE clarifies 2 dead 1 injured in Puerto Morelos beach shooting between rival drug dealers," Riviera Maya News, 5 November 2021.
"At least 2 killed in shooting at Cancun resort," NBC News, 5 November 2021.
"HOTEL HORROR, Cancun resort shooting: Four Americans hurt in Mexico beach attack that left two dead as tourists armed themselves," The Sun, 5 November 2021.
Tweet, Mike Sington, @MikeSington, 4 November 2021, https://twitter.com/MikeSington/status/1456362265863725061.
"Mexico's army stands between gangs, enforcing turf divisions," Associated Press, 27 October 2021.
"California travel blogger among 2 women killed in shooting at Mexico resort," CBS News, 23 October 2021.
"Mexico's war on cartels has created 400 new gangs that are taking on the police and cartels that are left," Business Insider, 13 October 2021.
"Playa del Carmen police officer shot, killed while inside Fifth Avenue booth," Riviera Maya News, 11 October 2021.
"Two Belizeans executed in Tulum," Amandala, 30 June 2021.
"American tourist in Cancun reportedly wounded in crossfire of jet ski gunmen," New York Post, 15 June 2021.
"Two dead, one injured in Cancun Hotel Zone beach shooting," Riviera Maya News, 12 June 2021.
Copyright©Muir Analytics 2021